PPC ANNUAL AWARDS WINNERS 2019
 The Publishers' Publicity Circle (PPC) is delighted to announce the winners of the PPC Annual Awards for 2019. The awards took place in London on 2nd March and celebrated the best book publicity campaigns delivered over the past year.
The judges this year were chaired by Stuart Evers from NETGALLEY, alongside Caroline Sanderson from THE BOOKSELLER, Zoe Steadman-Milne from BRISTOL FESTIVAL OF IDEAS, Bea Carvahlo from WATERSTONES, Sally Morris from THE DAILY MAIL, Emma Bradshaw from BOOKS ARE MY BAG, Rachel Fox from EDINBURGH INTERNATIONAL BOOK FESTIVAL and Philip Stone from NIELSEN BOOKSCAN.
Sophie Calder, Publicity Director at HQ and Chair of the PPC, said: "Year-on-year, publicity campaigns across the industry are progressively more inventive, strategic, and tangibly effective. I would like to congratulate my colleagues on their dynamic, relentless, and awe-inspiring work in 2019. This year, a place on the PPC shortlist was incredibly hard-won, notably for the Best Newcomer award where there was an abundance of new talent."
Stuart Evers, Chair of the judges, said: "The judges had a hugely difficult time choosing between such high-quality campaigns. It was a joy to see such creativity, tenacity and intelligence, and we wish we could have given more awards."
Sophie Calder now steps down and Stephanie Melrose, Deputy Publicity Director at Little, Brown Book Group will become chair for 2020 with Becky Short, Head of Publicity, Commercial, at Transworld, acting as her deputy.
THE WINNERS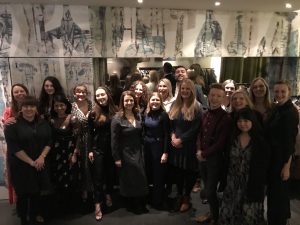 THE BOOKSELLER AWARD FOR HARDBACK NON-FICTION
 Winner: Invisible Women by Caroline Criado Perez – Lucie Cuthbertson-Twiggs, Vintage
Highly Commended: Lowborn by Kerry Hudson – Anna Redman Aylward, Vintage
Judges comments: 'A creative campaign that made a book about data relevant and interesting to everyone.'
THE WATERSTONES HARDBACK FICTION AWARD
The Testaments by Margaret Atwood – Fran Owen, Mari Yamazaki and Alison Davies, Vintage
Judges' comments: 'A campaign that was heard around the world, this stunning, unmissible campaign was a true cultural moment.'
BEST CELEBRITY CAMPAIGN SPONSORED BY CONNELL MPA
Tall Tales & Wee Stories by Billy Connolly – Alice Herbert and Yassine Belkacemi, John Murray Press
Judges' comments: 'With exception drive, this campaign didn't just rely on the author, but also found new ways to reach as wide an audience as possible.'
THE MO SIEWCHARRAN AWARD FOR BEST DEBUT CAMPAIGN
Winner: Queenie by Candice Carty-Williams – Maura Wilding and Leanne Oliver, Orion
Highly Commended: Paul Takes the Form of a Mortal Girl by Andrea Lawlor – Grace Harrison, Pan Macmillan
Judges' comments: 'A singular, utterly compelling campaign that with great ambition launched not just a new book but a new author.'
THE AWARD FOR BEST LIFESTYLE, GIFT & HUMOUR CAMPAIGN SPONSORED BY BOOKS ARE MY BAG
 Period Power by Maisie Hill – Katherine Macpherson, Bloomsbury
Judges' comments: 'Establishing the author as an authority on women's health, in a crowded market, this campaign generated sales and coverage.'
THE NETGALLEY AWARD FOR PAPERBACK ORIGINAL: FICTION OR NON-FICTION
The Prison Doctor by Dr. Amanda Brown – Joe Thomas, HQ
Judges' comments: 'A campaign that required perfect author care, directly led to a huge sale, targeting multiple markets with real passion.'
THE BRISTOL FESTIVAL OF IDEAS AWARD FOR BEST ACADEMIC CAMPAIGN
Chaucer: A European Life by Marion Turner – Katie Lewis, Princeton University Press
Judges' comments: 'A strong campaign that took a difficult subject and made it interesting for the general market.'
THE DELICIOUS. COOKERY BOOK AWARD
Tin Can Cook by Jack Monroe – Jessica Duffy, Pan Macmillan
Judges comments: 'Strong conceptual campaign that put the book in a wide variety of places, as well as finding innovative partnerships.'
THE CHILDREN'S BOOK AWARD SPONSORED BY THE DAILY MAIL
Look Up! by Nathan Bryon and Dapo Adeola – Chloe Parkinson, PRH Children's
Judges' comments: 'A grassroots campaign that identified key opportunites and brilliantly got in front of children and adults.'
THE YALC AWARD FOR BEST YA CAMPAIGN
The Places I've Cried in Public by Holly Bourne – Katarina Jovanovic, Usborne
Judges' comments: 'Extensive use and mainatance of partnerships and a keen eye for opportunity made this a standout entry.'
THE EDINBURGH BOOK FESTIVAL AWARD FOR BEST GENERIC CAMPAIGN
Elmer's 30th Anniversary by David McKee – Paul Black and Shona Abhyankar, Andersen Press and EDPR
Judges' comments: 'A comprehensive campaign that left an impression everywhere, even on Love Island.'
BEST SPORTS BOOK CAMPAIGN SPONSORED BY THE SUN
The Great Romantic by Duncan Hamilton – Karen Geary, Hodder
Judges' comments: 'Under challenging conditions, this campaign delivered with a tenacity, perseverance and determination.'
BEST NEWCOMER AWARD SPONSORED BY JO JAMES
War Doctor by David Nott – Gabriela Quattromini, Pan Macmillan
Judges' comments: 'Comprehensive, and impressive campaign, that felt like it had been conducted by a seasoned pro.'
PPC JOURNALIST/ EVENTS MANAGER/ LIBRARIAN OF THE YEAR
PPC members were also asked to vote for an events manager, journalist and librarian of the year. The 2019 winners are:
Events Manager: Rosie Beaumont-Thomas, Waterstones Gower Street
Journalist: Susie Dowdall, Daily Mail
Librarian: Susanna Thomas, Cardiff Libraries
*
*
*
NEW FOR 2020: QUARTERLY AND ANNUAL AWARD CATEGORIES
Starting from our first quarterly award for 2020, the PPC is pleased to be introducing the following new categories to the PPC Quarterly and Annual Awards.
YA and Children's Celebrity Book Campaign (all formats)
Award for the best campaign for a book aimed at a young reader (including picture books, middle grade and teen) written by a well-known personality.
Crime and Thriller Campaign, hardback and paperback
Award for the best book campaign within the crime, psychological suspense or thriller genre. This can be a novel or non-fiction, including true crime narratives, in both hardback and paperback format.
The introduction of these additional award categories is reflective of two key areas of strong and consistent growth within the trade, and which have produced an outstanding range of innovative, impactful publicity campaigns in recent years. As ever, we want the PPC Award listings to reflect the breadth of campaigns that publicists are tackling and to celebrate the excellent work being carried out across the industry.
Q4 AWARD WINNERS
Q4 Winner and Highly Commended!
Rosie Beaumont-Thomas from Waterstones kindly judged our Q4 award, the winner of which was automatically shortlisted for the annual awards. A statement from Rosie:
"In judging Q4, I was given an agonising job of choosing between some of the biggest campaigns in recent memory, alongside some of the most creative small campaigns I've ever had the pleasure to read. The standard was incredibly high, and each submission demonstrated that in the face of changing media, book publicists are adaptable, canny and defiant. Many – if not most – of these campaigns were presented with challenges of schedule clashes, limited media opportunities, fierce competition with each other, and enormous expectations – not to mention the turbulent political landscape as a backdrop. I was particularly impressed with the work of the children's books publicists, whose work is challenging, yet obviously driven by passion and personal pride. I took this decision very seriously!"
Q4 winner: Kate Moreton, Orion, for In the Cut by Susanna Moore
At the outset, Kate had everything working against her: this was the first fiction campaign of her career, the book was a re-issue, she had no budget – and no access to her author. Yet she demonstrated a granular and sensitive understanding of the book's themes for contemporary readers, created opportunities and talking points out of the campaign's drawbacks, and managed to secure impactful non-author opportunities. She also demonstrated a genuine understanding of how to reach different audiences. I myself spent autumn experiencing a barrage of word-of-mouth insistence that I read this book, from people far outside the publishing industry. This submission impressed me the most because it was delivered with the same attention to detail, understanding, and confidence of a much more experienced publicist, and had the same impact as campaigns with far more budget and experience behind them. Kate is truly one to look out for.
Highly Commended:
Katy MacMillan-Scott, Hephzibah Kwayke-Saka & Harriet Venn (for The Secret Commonwealth by Philip Pullman)
Fran Owen, Mari Yamakazi & Alison Davies (for The Testaments by Margaret Atwood)
Two of autumn's most dominant books – from two of the world's best-loved authors – understandably had two of the biggest campaigns behind them. Yet neither took it for granted or took the obvious route. Having collaborated with both teams on their launch events, I entered the PPC Q4 judging process almost determined to look elsewhere for inspiration. However, Fran Owen, Mari Yamakazi and Alison Davies; and Katy MacMillan-Scott, Hephzibah Kwayke-Saka and Harriet Venn ensured that their creative work (especially that which did not include their authors) created cultural moments which transcended traditional book publicity. Not only did they demonstrate what can be achieved collaboratively with the highest-possible targets, but each nimbly responded to unexpected challenges without loss of momentum. It was thrilling to read both their submissions – which could act as case studies for years to come – that I have chosen to acknowledge both of these PR teams (as is the vogue of the literary fourth quarter) with the PPC Highly Commended for Q4 2020.
A huge congratulations to Kate and all highly commended publicists!