Awards
ANNUAL AWARDS
Submissions for the Annual Awards are now open. The deadline for submissions is Friday 13th December. Please send your completed form and cuttings to Sabah Khan, HarperCollins, 1 London Bridge Street, London, SE1 qGF. The Annual form can be downloaded here.
A helpful 'Dos and Don'ts for PPC Forms' can be downloaded here.
QUARTERLY AWARDS
Submissions for the Q4 Awards are now open. The deadline for submissions is Friday 6th December. Please send your completed form and cuttings to Becky Short, Transworld, 61-63 Uxbridge Rd, London W5 5SA. The Q4 form can be downloaded here.
A helpful 'Dos and Don'ts for PPC Forms' can be downloaded here.
Q1 Awards Deadline (for campaigns from December 2018 to Feb 2019) – 8th March.
Q2 Awards Deadline (March – May 2019) – 14th June
Q3 Awards Deadline (June – August 2019) – 13th September
Q4 Awards Deadline (September – November 2019) – 6th December
Annual Awards Deadline – 13th December
PPC ANNUAL AWARDS WINNERS 2018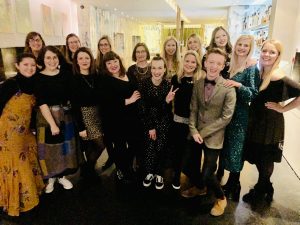 The Publisher's Publicity Circle (PPC) is delighted to announce the winners of the PPC Annual Awards for 2018.
The awards took place in London on 11th February 2019, and are presented to the publicists responsible for the best PR campaigns from 2018.
The judges this year were chaired by Sandra Taylor, Head of Events at WATERSTONES, alongside Zoe Steadman-Milne from BRISTOL FESTIVAL OF IDEAS, Alice O'Keeffe from THE BOOKSELLER, Sally Morris from THE DAILY MAIL, Emma Bradshaw from BOOKS ARE MY BAG, Stuart Evers from NETGALLEY, Roland Gulliver from EDINBURGH INTERNATIONAL BOOK FESTIVAL, Patrizia Nosal from NIELSEN BOOKSCAN, as well as freelance festival and events organiser, Jo James
Veronique Norton, Publicity Director at Hodder and Chair of the PPC, said: "2018 saw some incredible publicity campaigns across the publishing industry, showcasing creativity and originality and helping books and authors reach an ever-wider audience. I would like to congratulate the winners for all their hard work and it is wonderful that we are able to recognise this through the PPC Annual Awards and celebrate with them tonight."
Sandra Taylor, Chair of the judges, said: 'We were presented with many innovative, thoughtful and impactful campaigns on the shortlists this year, which made our job of judging a challenging one. It was a real pleasure to reward the outstanding work of publicists tonight, and it was a reminder of the creativity, strategy and sheer determination that it takes to deliver an exceptional and bestselling campaign."
Veronique Norton now steps down and Sophie Calder, Publicity Director at HQ, will become chair for 2019 with Stephanie Melrose, Deputy Publicity Director at Little, Brown, acting as her deputy.
THE WINNERS
THE BOOKSELLER AWARD FOR HARDBACK NON-FICTION
 The Secret Barrister by Anonymous – Hannah Corbett, Hannah Corbett PR for Pan Macmillan
Sandra Taylor, Chair of the judges, said: 'An inventive, sharp and clever campaign that navigated the restrictions brought about by an anonymous author with great skill – including, perhaps unexpectedly, events – this is very much testament to the individual publicist's talents.'
THE WATERSTONES HARDBACK FICTION AWARD
Winner: Normal People by Sally Rooney – Maria Garbutt-Lucero, Faber & Faber
Sandra Taylor said: 'Absolutely unmissable.  A campaign that appealed to both millennials and non-millennials alike and firmly established the author as a formidable new voice of a generation.'
Highly Commended: Circe by Madeline Miller – Ros Ellis, Bloomsbury
BEST CELEBRITY CAMPAIGN SPONSORED BY CONNELL MPA
Becoming by Michelle Obama – Poppy North and Amelia Fairney, Penguin General
Sandra Taylor said: 'The biggest book of the year certainly had a publicity campaign to match.  An all-conquering campaign that positioned this book as one of the major cultural and entertainment moments of 2018.  This was a staggering achievement and was rewarded in huge sales and a lasting social legacy that engaged readers around messages of equality, empowerment and education.'
THE MO SIEWCHARRAN AWARD FOR BEST DEBUT CAMPAIGN
The Mermaid and Mrs Hancock by Imogen Hermes Gower – Louise Court and Lucie Cuthbertson-Twiggs, Vintage
Sandra Taylor said: 'A high impact campaign that exceeded significant in-house expectations.  From an early news story placed in the Evening Standard to creative retailer engagement and a nationwide bookshop tour, these publicists worked tirelessly to achieve a Sunday Times top ten bestseller.'
THE AWARD FOR BEST LIFESTYLE, GIFT & HUMOUR CAMPAIGN SPONSORED BY BOOKS ARE MY BAG
 Feminists Don't Wear Pink (and other lies) by Scarlett Curtis – Maura Wilding, Maura PR & Communications and Harriet Venn, PRH Children's
Sandra Taylor said: 'A masterclass in turning a potentially campaign-busting moment into reams of positive press coverage, and going up against Philip Green in doing so, this campaign expertly leveraged a well-connected author to create debate, interest and attention around her book.'
THE NETGALLEY AWARD FOR PAPERBACK ORIGINAL: FICTION OR NON-FICTION
She Must Be Mad by Charly Cox – Lucy Richardson, HQ HarperCollins
Sandra Taylor said: 'A high impact PR campaign led to this book becoming the bestselling poetry debut of the year.  A hugely impressive campaign that targeted retailers and made mental health a key conversation around the book, far outperforming the competition and the publisher expectations.'
THE BRISTOL FESTIVAL OF IDEAS AWARD FOR BEST ACADEMIC CAMPAIGN
Making Oscar Wilde by Michele Mendelssohn – Anna Silva, OUP
Sandra Taylor said: 'The winning campaign achieved solid sales within a competitive market, and maximised a media savvy and enthusiastic author to successful effect.'
THE FOYLES COOKERY BOOK AWARD
BOSH! by Henry Firth and Ian Theasby – Sophie Calder, HQ HarperCollins and Megan Carver, Carver PR
Sandra Taylor said: 'Leading the pack in vegan publishing, this energetic campaign helped establish a brand and kept the book selling very well for an impressively sustained amount of time.'
THE CHILDREN'S BOOK AWARD SPONSORED BY THE DAILY MAIL
Julian is a Mermaid by Jessica Love – Kirsten Cozens, Walker Books
Sandra Taylor said: 'With virtually no budget, an unknown and unavailable author, this was a particularly impressive and creative campaign, a highlight of which was a Ru Paul endorsement on social, resulting in the book having its own stand at London Pride 2018.'
THE YALC AWARD FOR BEST YA CAMPAIGN
Misfit by Charli Howard – Simon Armstrong, PRH Children's
Sandra Taylor said: 'A remarkable campaign that was very obviously nurtured and well-curated by the publicist, who worked relentlessly to secure top tier media slots for its author.'
THE EDINBURGH BOOK FESTIVAL AWARD FOR BEST GENERIC CAMPAIGN
Horrible Histories 25th Anniversary – Penelope Daukes, Scholastic Children's Books
Sandra Taylor said: 'A truly year round anniversary campaign that resulted in a 72% sales increase YOY and achieved widespread coverage that appealed to grandparents, parents, teachers and, of course, children.'
BEST SPORTS BOOK CAMPAIGN SPONSORED BY THE SUN
How to be a Footballer by Peter Crouch – Tessa Henderson, Ebury
Sandra Taylor said: 'A last-minute training schedule change meant that a number of high profile media slots were lost.  The publicist, nonetheless, adapted, overcame and helped this book achieve Sunday Times Top 10 bestseller status, and kept the PR momentum going as it slid into peak Christmas gifting.'
BEST NEWCOMER AWARD SPONSORED BY JO JAMES
The Plus One by Sophia Money-Coutts – Joe Thomas, HQ Harper Collins
Sandra Taylor said: 'Harnessing a debut author's strong media connections with the aim of establishing her as a bold new voice in chick lit, this was a fine campaign from a new publicist sure to be going places.'
PPC JOURNALIST/ EVENTS MANAGER/ LIBRARIAN OF THE YEAR
PPC members were also asked to vote for an events manager, journalist and librarian of the year. The 2018 winners are:
Events Manager: Rosie Beaumont Thomas, Waterstones Tottenham Court Road
Journalist: Ursula Kenny, Observer New Review
Librarian: Mel Graaf, Bolton Library
Q4 and Annual Awards 2018
The PPC is delighted to announce the shortlist for the PPC Annual Awards, given for the best campaigns carried out by publicists in 2018.
A huge CONGRATULATIONS to all shortlisted publicists!
THE BOOKSELLER AWARD FOR HARDBACK NON-FICTION
The Secret Barrister by Anonymous – Hannah Corbett, Hannah Corbett PR for Pan Macmillan
Step by Step by Simon Reeve – Veronique Norton, Hodder & Stoughton
21 Lessons for the 21st Century by Yuval Noah Harari – Joe Pickering, Vintage and Preena Gadher and Caitlin Allen, Riot
In Extremis: The Life of War Correspondent Marie Colvin by Lindsey Hilsum – Fran Owen and Sophie Mitchell, Vintage
The Salt Path by Raynor Winn – Olivia Thomas and Jenny Platt, Michael Joseph
Fire and Fury by Michael Wolff – Zoe Hood, Little Brown and Jane Acton, Jane Acton PR
The Language of Kindness by Christie Watson – Fran Owen and Sophie Mitchell, Vintage
Factfulness by Hans Rosling – Eleni Lawrence and Louise Court, Hodder & Stoughton
THE WATERSTONES HARDBACK FICTION AWARD
The Female Persuasion by Meg Wolitzer – Lucie Cuthbertson-Twiggs, Vintage
Dead Men's Trousers by Irvine Welsh – Aidan O'Neill, Vintage
In a House of Lies by Ian Rankin – Leanne Oliver, Orion
Circe by Madeline Miller – Ros Ellis, Bloomsbury
Normal People by Sally Rooney – Maria Garbutt-Lucero, Faber & Faber
London Rules by Mick Herron – Yassine Belkacemi, John Murray
Still Me by Jojo Moyes – Sarah Harwood, Ellie Hughes and Clare Parker, Michael Joseph
BEST CELEBRITY CAMPAIGN SPONSORED BY CONNELL MPA
My Thoughts Exactly by Lily Allen – Francesca Pearce and Lizzie Dorney-Kingdom, Blink Publishing
The Astronaut Selection Book by Tim Peake – Sarah Harwood and Alice Spencer, Cornerstone
Becoming by Michelle Obama – Poppy North and Amelia Fairney, Penguin General
First Man In by Ant Middleton – Isabel Prodger, Harper Non-Fiction
Straight Outta Crawley by Romesh Ranganathan – Becky Short, Transworld
The President is Missing by Bill Clinton and James Patterson – Charlotte Bush and Sarah Harwood, Cornerstone
THE MO SIEWCHARRAN AWARD FOR BEST DEBUT CAMPAIGN
The Mermaid and Mrs Hancock by Imogen Hermes Gower – Louise Court and Lucie Cuthbertson-Twiggs, Vintage
Educated by Tara Westover – Najma Finlay, Cornerstone and Caitlin Allen, Riot 
Vox by Christina Dalcher – Lily Capewell, HQ HarperCollins
Lullaby by Leila Slimani – Sophie Portas, Faber & Faber
Slay in Your Lane by Yomi Adegoke and Elizabeth Uviebinene – Naomi Mantin, Fourth Estate
The Lido by Libby Page – Rebecca Gray, Orion
THE AWARD FOR BEST LIFESTYLE, GIFT & HUMOUR CAMPAIGN SPONSORED BY BOOKS ARE MY BAG
A Field Guide to the English Clergy by The Revd Fergus Butler-Gallie – Kate Bland, Oneworld
Feminists Don't Wear Pink (and other lies) by Scarlett Curtis – Maura Wilding, Maura PR & Communications and Harriet Venn, PRH Children's
Stories for Boys Who Dare to be Different by Ben Brooks – Olivia Mead, Quercus
On This Day in History by Dan Snow – Alice Herbert, John Murray
The Last Hedgehog by Pam Ayres – Alice Dewing, Pan Macmillan
The Mother of All Jobs by Christine Armstrong – Katherine Macpherson, Bloomsbury
THE NETGALLEY AWARD FOR PAPERBACK ORIGINAL: FICTION OR NON-FICTION
Less by Andrew Sean Greer – Grace Vincent, Little, Brown
She Must Be Mad by Charly Cox – Lucy Richardson, HQ HarperCollins
I Invited Her In by Adele Parks – Sophie Calder and Isabel Smith, HQ HarperCollins
The Unexpected Joy of Being Sober by Catherine Gray – Karen Baker, Octopus
F**k You Cancer by Deborah James – Ellie Crisp, Ebury
A Different Drummer by William Melvin Kelley – Ana McLaughlin, Quercus
THE BRISTOL FESTIVAL OF IDEAS AWARD FOR BEST ACADEMIC CAMPAIGN
Making Oscar Wilde by Michele Mendelssohn – Anna Silva, OUP
Writers and their Mothers by Dale Salwak – Rebecca Krahenbuhl, Palgrave Macmillan
Sleeping with the Lights On by Darryl Jones – Anna Gell, OUP
THE FOYLES COOKERY BOOK AWARD
Bosh by Henry Firth and Ian Theasby – Sophie Calder, HQ HarperCollins and Megan Carver, Carver PR
Slow by Gizzi Erskine – Joe Thomas, HQ HarperCollins and Tim Beaumont and Yazmin McKenzie, Beaumont Communications
The Hairy Biker's British Classics by Si King and Dave Myers – Virginia Woolstencroft, Orion
The Green Roasting Tin by Rukmini Iyer – Sapphire Rees, Vintage
Lose Weight For Good by Tom Kerridge – Thi Dinh and Ellen Williams, Bloomsbury
Deliciously Ella: The Plant-Based Cookbook by Ella Mills – Louise Swannell, Hodder & Stoughton
THE CHILDREN'S BOOK AWARD SPONSORED BY THE DAILY MAIL
How to be a Lion by Ed Vere – Lucy Mann and Chloe Parkinson, PRH Children's
My Mum Tracy Beaker by Jacqueline Wilson – Alice Hill and Naomi Cooper, PRH Children's
Julian is a Mermaid by Jessica Love – Kirsten Cozens, Walker Books
Poppy Field by Michael Morpurgo – Rachel Phillips, Scholastic
The House with Chicken Legs by Sophie Anderson – Fritha Lindqvist, Fritha Lindqvist PR for Usborne
The Snowman by Michael Morpurgo – Lucy Mann, Ellen Grady and Jen Cooper, PRH Children's
THE YALC AWARD FOR BEST YA CAMPAIGN
The Truth and Lies of Ella Black by Emily Barr – Jasmine Joynson, PRH Children's
WaR: Wizards and Robots by will.i.am and Brian David Johnson – Harriet Venn, PRH Children's
Clean by Juno Dawson – Maura Wilding, Maura PR & Communications and Emily Thomas, Hachette Children's
Misfit by Charli Howard – Simon Armstrong, PRH Children's
What If It's Us by Becky Albertalli and Adam Silvera – Olivia Horrox, Simon & Schuster Children's
Long Way Down by Jason Reynolds – Hannah Love, Faber & Faber and Nina Douglas, Nina Douglas PR
THE EDINBURGH BOOK FESTIVAL AWARD FOR BEST GENERIC CAMPAIGN 
Virago Modern Classics 40th – Hayley Camis, Little, Brown
Horrible Histories 25th Anniversary – Penelope Daukes, Scholastic Children's Books
Wellcome Prize – Hannah McMillan and Alice Geary, Midas PR
The Year of Spark – Jan Rutherford and Kristian Kerr, Birlinn
Matilda 30 – Lucy Mann, Jasmine Joynson and Justin Stomper, PRH Children's
Bloody Scotland – Fiona Brownlee, Brownlee Donald Associates
BEST SPORTS BOOK CAMPAIGN SPONSORED BY THE SUN 
The World According to Foggy by Carl Fogharty – Phoebe Swinburn and Millie Seaward, Headline
Old Too Soon, Smart Too Late by Kieron Dyer – Becky Hunter, Headline
Heads Up: My Life Story by Alan Smith – Beth Wright, Little, Brown
State of Play by Michael Calvin – Rachel Kennedy, Cornerstone
The Tour According to G by Geraint Thomas – Hannah Robinson, Quercus
How to be a Footballer by Peter Crouch – Tessa Henderson, Ebury
BEST NEWCOMER AWARD SPONSORED BY JO JAMES
The Plus One by Sophia Money-Coutts – Joe Thomas, HQ HarperCollins
How to be Successful Without Hurting Men's Feelings by Sarah Cooper – Sapphire Rees, Vintage
Red Clocks by Leni Zumas – Emilie Chambeyron, HarperFiction
In Paris by Jeanne Damas and Lauren Bastide – Corinna Bolino, Penguin General
Enigma Variations by Andre Aciman – Josh Smith, Faber & Faber
The Skincare Bible by Anjali Mahto – Josie Murdoch, Penguin General